The Role of Photography in Local History
The next meeting of the Society takes place on Thursday 11th November at 7:30 pm in St. Andrew's Church, Bilston Street, Sedgley. The speaker is Ned Williams the popular Black Country historian and author of over fifty books.
Ned delves into his extensive collections of images covering life and times in the Black Country. Stories abound in this look at the rich heritage of our towns and villages.
An evening of pure nostalgia is promised!
To maintain Covid safety ALL attendees are asked to pay £2 – exact amount appreciated. Wearing a mask is a personal choice. However, on entry and exit masks are encouraged.
2021 – Summer Teaser Answer

Sandwiched between front and rear changes the original building can be picked out. In its heyday what purpose did it serve?
Coseley's first cinema was opened in Ivy House Lane in March 1913. Originally called Coseley Picture Palace, later Coseley Picture House and finally The Cosy. Locally it was well known as "Page's" or "Peckers" after the owner, William Page. The last film was shown in the late 1950s and in May 1961 Coseley Ex-Servicemen's Club was opened in a much changed building.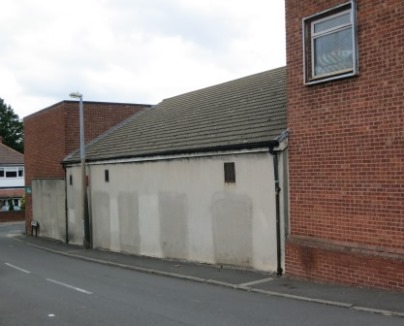 Black Country Geopark
In July 2020 UNESCO announced an area within the boroughs of Dudley, Sandwell, Walsall and Wolverhampton would be designated as a Global Geopark.
Initially forty Geosites are highlighted including seven locations in Sedgley Manor: Wren's Nest NNR; Cotwall End LNR; Sedgley Beacon; Castle Hill Zoo & Woodland; Coseley Canal Cutting & Tunnel; Holloway Street Sandstone Quarries, Upper Gornal; The Gorge, Hurst Hill (northern part closed). All have free public access except the Zoo & Castle.
Check out the full story and details of all the Geosites.
Sedgley Local History Society [SLHS]
Sedgley Local History Society [SLHS] is a Black Country group based in the village of Sedgley, which is situated at the northern tip of Dudley Metropolitan Borough and just 3 miles south of the centre of Wolverhampton.
Here, the heritage of the Manor of Sedgley, in south Staffordshire, is focused through its nine villages - Sedgley, Gospel End, Cotwall End, Upper Gornal, Lower Gornal, Woodsetton, Coseley, Ettingshall and Brierley. A history of people, places and events.
Please contact us if you have any comments, suggestions, contributions or questions.

Please note that genealogy isn't a prime interest of SLHS - it's a huge specialist area in its own right. We provide a list of useful sites on our genealogy links page that will help you to begin your research, however if you have a specific query drop us a line!
2021 – Autumn Teaser

This horse trough is a good example of a once common roadside placement.
Send an email if you can find its location and maybe know the trough's amazing story.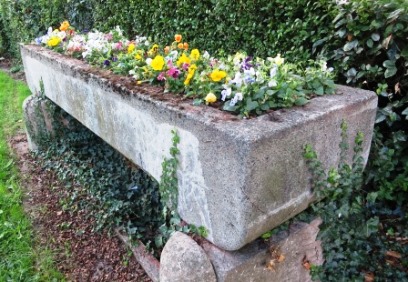 Castle At Risk
Dudley Castle, built in Sedgley Manor's Woodsetton village, is in need of some tender loving care.
In the Civil War it survived two sieges (1643 and 1646) suffering only minor damage. However, Oliver Cromwell wasn't finished with attacking its defences and, along with other fortifications in England Parliament instructed the castle was to be 'sleighted' beyond repair (1647).
Further damage was caused by a fire in 1750 started by accident or intention. This left the living quarters uninhabitable. After that the castle continued to crumble and became a much admired romantic ruin in Victorian times.
The ruins were given Grade I status in 1949 putting it on a par with the Tower of London, Windsor Castle and many other historic sites. In the 1980s archaeological digs and limited restoration projects helped to raise the castle's profile.
Some forty years later its condition was a cause for concern and in October 2020 the castle ruins were added to the 'at risk' register of Historic England. The owners, Dudley Council, hope this will help them to succeed in funding applications for sensitive restoration.
This is a composite picture from around 1920 showing the Keep across the Bailey as seen through the Triple Gateway. In reality such a view is possible, but through a much less imposing archway!