Inking in the Pen Industry
Birmingham's Jewellery Quarter is a gem of a visit. For local history enthusiasts there are listed buildings, a church where James Watt and Matthew Boulton worshipped, the city's only surviving Georgian square, a coffin works and a jewellery museum.
However, on this visit the steel pen nib trade is top of the list. A ten minute walk from the combined railway and Midland Metro tram station at Vyse Street, past the Chamberlain Clock reaches Frederick Street. Here the Pen Museum is housed in the 1863 Albert Works pen factory of William Wiley. The museum is packed with thousands of items associated with the pen trade and the history of writing.
The invention of the steel pen nib had a humble beginning around 1800. In Sedgley local blacksmith, Daniel Fellows set his apprentice to work on handcrafted nibs making Thomas Sheldon the world's first pen nib 'manufacturer'. Outside the Black Country these names are often forgotten, while in 1820s Birmingham Joseph Gillott and others were refining the simple barrel shape and adding slits thus writing their names in the history books.
Birmingham can definitely claim to have industrialised nib making. At Joseph Gillott's Victoria Works (1840) in Graham Street, round the corner from the museum, literally tons of steel nibs were manufactured. Gillott took nearly 80% of the world market by 1850 and became the sole importer into the United States.
Thomas Sheldon is buried in the shadow of All Saints' Church in Sedgley and Joseph Gillott in Key Hill cemetery in the Jewellery Quarter.
2018 – Spring Teaser

There was a surge in church building in the early decades of the C19th as the government eased restrictions on creating new parishes and made a considerable contribution to Church of England funds. Money was allocated throughout the country by the Church Building Commissioners.
We asked you to name this new church in Sedgley Manor that received nearly £9,000.
Christ Church in Coseley was opened for worship in 1830. This Lady Chapel was created in 1888, altered in 1897 and refined into its present configuration in 1910. The influence of the pre-Raphaelite movement is much in evidence.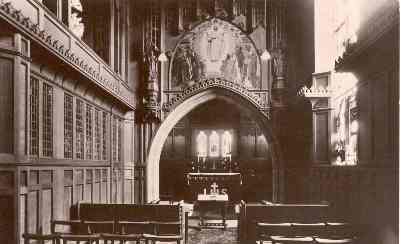 The SLHS 2018 / 2019 Programme

The 2018/2019 Programme promises another set of informative and stimulating talks from local experts. Returning favourites Ned Williams and Ian Bott will be covering chapels and Frederick Hackwood, an influential Black Country historian. In March the irrepressible Max Keen will appear in many guises to tell the story of Dudley Castle.
Meetings take place at St. Andrew's Church on Bilston Street in Sedgely, and are scheduled for Sept/Oct/Nov 2018 and Jan/Feb/ Mar/May 2019. The society is very friendly and, as always, visitors will be most welcome.
2018 – Summer Teaser

The 56th Teaser is a building looking the worse for wear in 2000. Today it is in tiptop condition.
Send an email naming the location.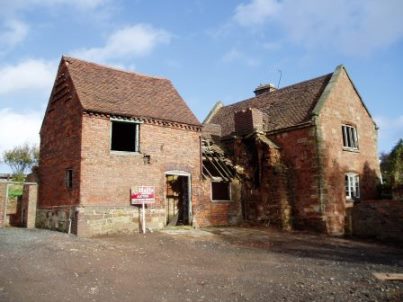 Sedgley Local History Society [SLHS]
Sedgley Local History Society [SLHS] is a Black Country group based in the village of Sedgley, which is situated at the northern tip of Dudley Metropolitan Borough and just 3 miles south of the centre of Wolverhampton.
Here, the heritage of the Manor of Sedgley, in south Staffordshire, is focused through its nine villages - Sedgley, Gospel End, Cotwall End, Upper Gornal, Lower Gornal, Woodsetton, Coseley, Ettingshall and Brierley. A history of people, places and events.
Please contact us if you have any comments, suggestions, contributions or questions.

Please note that genealogy isn't a prime interest of SLHS - it's a huge specialist area in its own right. We provide a list of useful sites on our genealogy links page that will help you to begin your research, however if you have a specific query drop us a line!