AIMS
The aim of the Sedgley Local History Society (SLHS) is to promote an interest in the history of Sedgley and the surrounding areas which originally formed part of the greater Sedgley Manor in south Staffordshire.
A programme of monthly talks, held at St. Andrew's Church, Bilston Street Sedgley, starts each September with the Andrew Barnett Memorial Lecture.
The last meeting, in June, is usually a guided walk through one of the nine villages that make up the Ancient Manor of Sedgley.
CONTACT US
For more information on the Society, or if you have any contributions, suggestions, comments or questions please drop us an e-mail.

Society reaches its China Anniversary
The Society was formed in 1984 'over a cup of tea'!
Trevor Genge, now Sedgley's leading local historian, suggested to Andrew Barrett, the retired headmaster of Redhall Junior School and keen researcher of the Manor's past, that there might be enough interest in local history to hold regular meetings.
They were both well aware of disappearing buildings and the loss of local memorabilia. The first get together did not disappoint and a programme of talks and visits soon followed. The Society's 'home' has always been St. Andrew's Church in Bilston Street, Sedgley.
Andrew was committed to a public display of items and records. His enthusiasm was rewarded in November 1988 with the opening of the Sedgley Local History Museum. Unfortunately he died in 1989 leaving behind a legacy of unpublished work. In September of the same year the Society inaugurated the Andrew Barnett Memorial Lecture with a talk given by Dr. John West.
Membership has stayed near the fifty mark with some names ever present – Trevor Genge, Chairman and Ron Baker, Treasurer throughout the twenty years. Marie Bates was the Secretary for well over ten years before leaving Sedgley, while Bryan Hollies and Marjorie Ellis have maintained the Museum collection for around fourteen years.
The Society's members have given talks, published books, written articles, photographed & drawn every nook & cranny throughout the Manor, collected an amazing array of items, campaigned on a wide range issues and encouraged a strong interest in recording the past & present for future generations.
The website is SLHS's long-term project. It went online in April 2003 and has already attracted a 'virtual' membership willing to send material as well as request help. This method of accessing local history resources is still in its infancy, yet has quickly become a remarkable research tool.
Who can guess where this will lead the Society over the next two decades.
Three Men and a Cake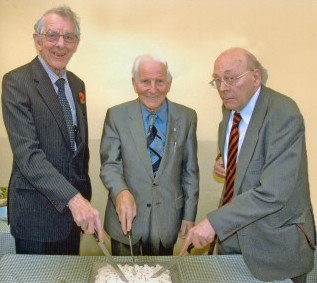 A Silver Anniversary needs a cake and the Society did not disappoint when celebrating at St. Andrew's Church Sedgley on Thursday 12th November 2009.
Watched by over forty members and friends the cake cutting trio of (l. to r.) President Trevor Genge, Treasurer Ron Baker and Vice-chairman Bryan Hollies went to work after Chairman Geoff Harrison raised a toast to the next twenty five years of local history activities. Eddy Hickey snapped the action.
Before the reception guests listened to reminiscences from Trevor, Ron, Bryan and Marjorie Ellis, browsed through memorabilia and watched a short video made by Dennis Harper in December 2004 showing the closing days of Sedgley Local History Museum.
On leaving everyone was presented with a copy of Ron Baker's lithograph of Sedgley's National School, later All Saints Sunday School [demolished in 1966]. The evening was a great success.
Trevor Genge – 1931 ~ 2012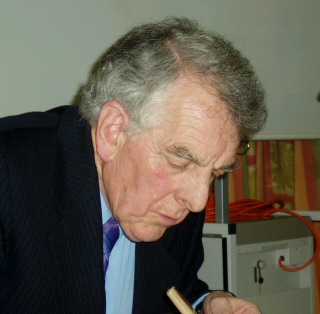 Trevor signing copies of his book, Sedgley & District - A Fifth Selection, at Queen Victoria Primary School in May 2004.
Trevor died peacefully on Friday 5th October 2012.
Trevor was an accomplished local historian who warmed to the challenge of ferreting out information on the Black Country and in particular the nine villages of Sedgley Manor.
He was joint founder of Sedgley Local History Society in 1984 and Chairman for over two decades. In the last few years he had been President. Throughout he was a regular speaker at meetings, leader of the annual summer walk and from 2003 a valued website contributor. Trevor produced a programme of speakers year after year.
Trevor was also a trustee of Sedgley Local History Museum from its opening in 1988 to its closure in 2004.
In 1991 he edited and arranged the publication of the late Andrew Barnett's notes on Sedgley Manor and starting in 1995 he contributed five books in the Alan Sutton Publishing series 'Britain in Old Photographs' covering the villages of Sedgley Manor.
At the Coseley School his adult evening class on local history ran from 1993 to 2006 to meet a demand for the increased interest in this subject. Students were captivated by his talks on people, places and events as he brought to life a Black Country from earlier times.
In March 2008 at Dudley's annual Civic Awards ceremony he received the Thomas Attwood award for education. Trevor's citation mentioned his outstanding contribution through countless talks, presentations and many publications. This was a richly deserved recognition for many years working in the field of education as a teacher and renowned local historian. He was given a plaque and an exclusive hand crafted glass vase.
For about five years until spring 2009 he was President of the Bilston based Black Country Memories Club, a key organisation recording that part of Wolverhampton. Some of Trevor's research can be found on the Wolverhampton History and Heritage Society website.
He was the first port of call for Dudley Council requesting advice on sensitive planning issues in the three conservation areas in the north of the borough. Furthermore he was a much respected contact for the Black Country Living Museum.
Trevor was in great demand as a speaker and travelled across the Black Country and beyond giving talks and presenting slide shows from an extensive catalogue built up over decades. He drew on personal archives compiled through original research and diligent collecting.
His contribution to the recording and researching of this part of the Black Country will be a benchmark for future historians.
Trevor generously shared his enthusiasm for all things Black Country with everyone he met. His anecdotes and stories made him a memorable conversationalist.
His legacy is assured – Trevor will be fondly remembered and greatly missed.