The grand finale of the 2002/2003 Programme was the walk around Ruiton led by Trevor Genge. A party of over fifty people followed the route shown below stopping off, en route, for a look inside Ruiton Church.
The schematic map shows the route taken, and identifies some of the local points of interest - just move your mouse over the points and appropriate details should come up in the grey box to the right of the map.
For those interested, a more detailed A to Z style map of this area can be found on the Walk4Life website, which shows the walk plotted onto a proper OS map.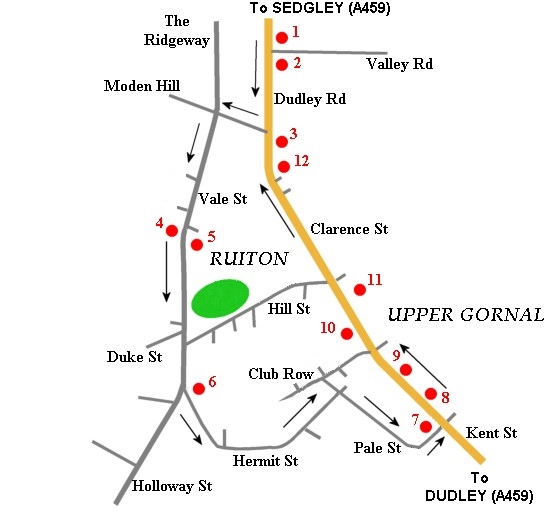 Using the Map
As you move your mouse over the map, details of the numbered points of interest will appear in the place of this text.
The Leopard
Old Black Country pub - the name dates back over 100 yrs (pre - 1900).
County Wallpapers
Previously a cinema (The Picture House), which closed in the 1960s.
Mile Post
Once read "Dudley 2 miles, Wolverhampton 4 miles".
Ruiton House
Built around 1750.
Ruiton Mill
Built around 1820.
More details available on our Ruiton Windmill page.
Ruiton Congregational Church
Erected in 1830 to replace one of 1777. It has a raised central pulpit and gallery.
McDonalds
Built in 2002!
Replaced the Pig on the Wall public house, previously known as the Bricklayers Arms.
St. Peter's Church
Built in 1838.
Site of Kent Street Wesleyan Methodist Chapel
Originally erected in 1832.
Britannia Inn
A traditional Black Country establishment for the supply of refreshment.
Upper Gornal Methodist Church
A replacement for Mount Zion Methodist and Kent Street.
The Jolly Crispin
Another traditional pub - first recorded in 1820.
Any walkers following this route will see magnificent views from Moden Hill & Duke Street to the west towards the Clee Hills; and from Hermit Street to the south towards Lower Gornal, Russells Hall Hospital and in the distance, the Malvern Hills. Club Row, now rebuilt, was once a terrace of some twenty houses, typical of the hamlet. There are still many fine buildings and walls in Gornal sandstone, much of it quarried from the area below Hermit Street.
The walk is about one and half miles and passes too many pubs to suggest how long it will take!