Ron Baker
Ron Baker was born on the eve of Armistice Day (10th November 1918) in Woodsetton. While working as a tailor, with a shop in central Sedgley, Ron developed his skills as an artist. Currently he has a portfolio of over 300 pen and ink drawings of the ancient Manor that are based on personal site visits and research.
Some of these were published in two pictorial history books (released in 1970 and 1991). Both limited edition releases are now out of print, but copies are available in Sedgley library.
Ron was a founder member of Sedgley Local History Society and is now the treasurer and a trustee of the museum.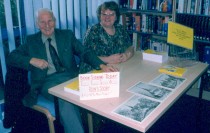 &nbsp
Gallery
To view pictures in more detail, click on the image or title. Please be patient while waiting for the image to download.

&nbsp