St. John's Church (Kates Hill) Preservation Group
The Society's new season of talks begins on Thursday 13th September at 7:30 pm in St. Andrew's Church, Bilston Street, Sedgley. The speakers are Deb Brownlee, chair of the Group and Chris Smith, editor of the community magazine, Village Voice. Their illustrated talk about St. John's and the project to bring it back into use highlights the need for perseverance and community support to overcome the obstacles of reopening.
Moreover, the significance of the 1840 church stretches beyond the Kates Hill area of Dudley. Find out how Marion Richardson, William Perry and Edward Noot are linked to its past history.
Note: the latest details about the project are available from the St John's Church Preservation Group website.

As usual visitors are invited to come along. Individual talks cost £1. Annual membership of the Society costs £5 and gives free access to the programme of talks.
Olympic Flame comes to Coseley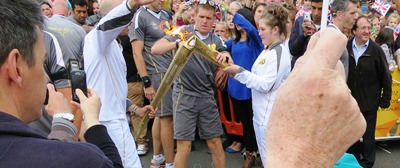 On Saturday 30th June Coseley had its Moment to Shine when the Olympic Torch Relay travelled along the Birmingham New Road from Wolverhampton to Oldbury. Twelve year old Megan Hems from Walsall was one of eleven torch bearers who covered the Dudley section. Outside Jubilee Park torches 'kissed' at 4:20 pm in order to pass the flame on and for Megan to run to Vicarage Road West.
Day 43 of the relay saw thousands lining the route as the flame travelled on to the Black Country Living Museum for narrow-boat and tram rides before leaving for Burnt Tree via the Castle Gate island.
Birmingham was the final destination on a leg that began in Derby. Crowds of people watched the convoy pass through Walsall, Wolverhampton, Dudley and Sandwell cheering on the torch bearers and their golden torches determined to have a day to remember.
2012 Summer Teaser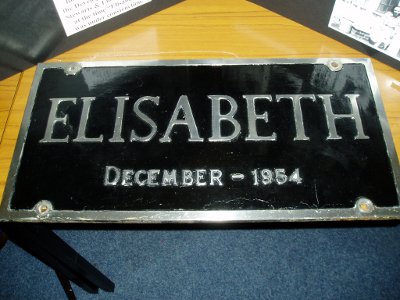 Elizabeth (or Elisabeth) has been a top 50 girls name for many years. Two Queens have carried the name and it has been associated with ships, locomotives, bridges, theatres, hospitals and schools. We asked if you could work out where in 1954 that this local nameplate made a unique addition to the list.

The blast furnace Elisabeth, named after the daughter of the chairman of Stewart & Lloyds Ltd, was the last new one to be lit in the Black Country. It dominated the Bilston Steelworks in Ettingshall for over twenty five years ending operation in October 1977. Final demolition came on Sunday 5th October 1980 – the end of 'Big Lizzy'.