Restoring Old Photographs
The Society's new season of talks begins on Thursday 8th September at 7:30 pm in St. Andrew's Church, Bilston Street, Sedgley. The speaker is Eddy Hickey a keen photographer and member of the Grange Camera Club, Wolverhampton.
His illustrated talk will appeal to everyone with old photographs that need some tender loving care. Eddy presents a jargon free approach to removing those creases and reducing other damage to priceless family pictures of people and places.
As usual visitors are invited to come along – admission £1. Annual membership of the Society costs £5 and gives free access to the programme of talks.
2011 Summer Teaser Answer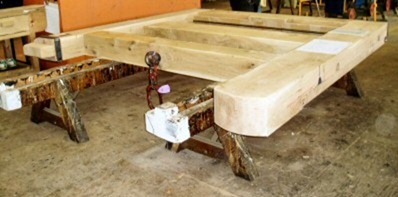 Generations of Black Country craftsmen have made these vital parts. We wanted you to identify their use and the location of the factory.

The picture of a lock gate under construction was taken in April 2011 at the Bradley Workshop of British Waterways situated off Bradley Lane, Bradley, Bilston. It is located at the end of the Bradley Arm, a canal cul-de-sac linked to the Birmingham Canal Navigation.
Lock gate production moved here from Ocker Hill in the 1960s to occupy the former site of Upper Bradley Furnaces. The solid English oak canal gates can weigh several tonnes and, depending on size, take from five to twenty days to build.