Ticket to China

The Society's new season of talks begins on Thursday 9th September at 7:30 pm in St. Andrew's Church, Bilston Street, Sedgley. The speaker is Geoff Harrison our chairman. He visited China in the 1980s as a member of a Board of Trade party engaged in discussions with their ceramic industry.

His slides and recollections promise an entertaining evening of history, oriental business etiquette and an opportunity to discuss why everything is now 'Made in China'!

As usual visitors are invited to come along – admission £1. Annual membership of the Society costs £5 and gives free access to the programme of talks.
2010 Summer Teaser Answer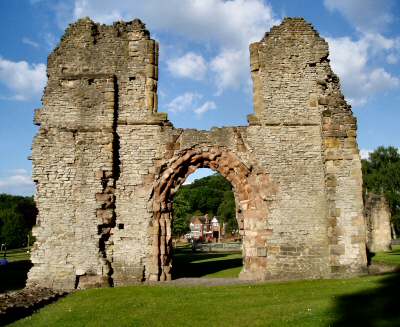 These evocative ruins have strong connections with France, Shropshire and Sedgley Manor. We asked you to name the site and find the local link...
This early evening view is of the west front of the Cluniac Priory of St. James founded around 1150. The ruins are located to the west of Paganel Drive in central Dudley.
Cluniac priories were dependent on the mother church – Cluny Abbey, La Charité-sur-Loire, Burgundy. In 1180 Gervase Paganell placed his foundation of Dudley Priory under Wenlock Priory, giving the prior the right to place his monks in Dudley and appoint the priors there.
Land in the villages of Sedgley, Coseley and Woodsetton once belonged to Dudley Priory and the appointment of Sedgley vicars was the Prior's right.