Cavalier Dogs and Roundhead Rogues
The twenty-fifth Andrew Barnett Memorial Lecture takes place on Thursday 9th October at 7:30 pm in St. Andrew's Church, Bilston Street, Sedgley. The speaker is Mary Bodfish, a favourite with local history groups and Chairman of Smethwick Local History Society.
Mary's illustrated talk portrays the family tensions caused by the English Civil War as it ebbed and flowed around Birmingham ('battle' in April 1643), Wolverhampton, Walsall and Dudley (castle sieges in 1644 & '46) – local people took sides and there was much upheaval and damage.
Do come along and bring your friends.
As usual visitors are invited to come along. Individual talks cost £1. Annual membership of the Society costs £5 and gives free access to the programme of talks.
[Andrew Barnett (1909 – 1989) ~ Headteacher of Red Hall Junior School in Lower Gornal, co-founder of the Society and keen researcher of Sedgley Manor's history. Barnett's History of Sedgley is available in local libraries.]
2014 Summer Teaser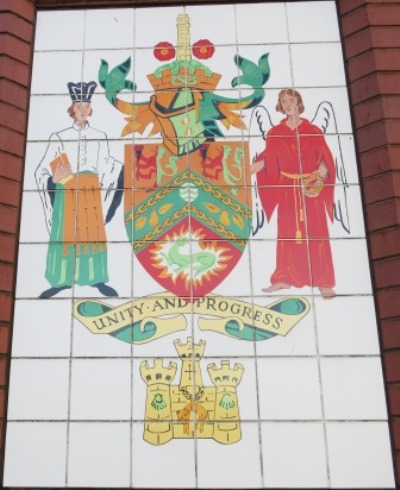 The arms of Dudley Metropolitan Borough Council were granted in June 1975. There are elements from the old County Borough arms as well as from the different authorities subsumed into the 'new' Dudley.
We asked if you could identify the symbols from the Urban Districts of Sedgley and Coseley (and give yourself a pat on the back if you know the location of the tiles.)

The key elements from Sedgley's badge and Coseley's arms are the Beacon Tower and Stafford Knot set at the top of the Borough coat of arms. Both towns were in Staffordshire.
The tiles took pride of place on the rear wall of a toilet block at the north end of Dudley's Market Place. The 1980s building was demolished in the first week of July 2014 to give a clear view of the castle and make way for the redevelopment of the market facilities. The fate of the tiles is unknown.