Growing up in Wall Heath in the 1950s and 1960s

The twenty-fourth Andrew Barnett Memorial Lecture takes place on Thursday 10th October at 7:30 pm in St. Andrew's Church, Bilston Street, Sedgley. The speaker is Terry Church, a favourite with local history groups and a man determined to put Wall Heath on the map.
He is talking about his 'golden age' of village life in arguably the two most important decades of the C20th. He captures those vintage years with stories of school, the world of work and recollections of local & national headlines.
The evening is a fine occasion to recall the Cold War, the Coronation (1953), Lego bricks (1958), Baggies winning the FA Cup (1954 & 1968), Wolves winning the FA Cup (1960), the Beatles (1960), assassination of President Kennedy (1963), England win World Cup (1966) and the USA putting a man on the Moon (1969).
Do come along and bring your friends.
As usual visitors are invited to come along – admission £1. Annual membership of the Society costs £5 and gives free access to the programme of talks.
[Andrew Barnett (1909 – 1989) ~ Headteacher of Red Hall Junior School in Lower Gornal, co-founder of the Society and keen researcher of Sedgley Manor's history. Barnett's History of Sedgley is available in local libraries.]
2013 Summer Teaser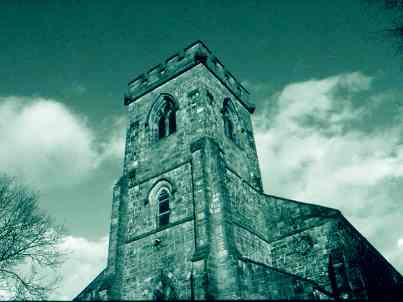 In the C19th local stone dominated church building in Sedgley Manor. We asked you to name the church.
The Gornal stone used to build Church Street's St. James the Great was quarried within a mile of the Lower Gornal church. Building began in 1815 to a design by Barnstable's Thomas Lee. The church was opened for worship in 1817 and consecrated in 1823. Grade II listing was given in March 1996.
In September 2002 the Dudley Earthquake caused some cracks in the tower. Repairs and strengthening rectified the damage.