Stagecoach Inns to Indian Cuisine
The next meeting of the Society takes place on Thursday 9th May at 7:30 pm in St. Andrew's Church, Bilston Street, Sedgley.
The very short Annual General Meeting is followed by a talk – Stagecoach Inns to Indian Cuisine.
The speaker is Samantha Badger, winner of the 2012 Wolverhampton Local History Symposium, with her presentation tracing the history of eating out and takeaways in Wolverhampton. Diligent research unearthed great stories from 1800 to 1970. On the way expect pies, fish and chips and the advent of more exotic foods.
Sam will be serving up a feast of historical titbits in what promises to be a most enjoyable evening.
As usual visitors are invited to come along. Individual talks cost £1.
2013 Spring Teaser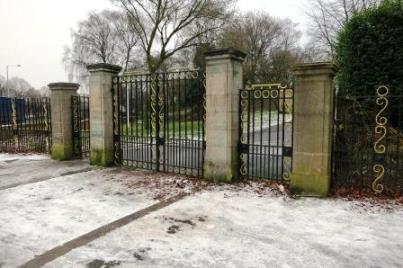 We suggested that land reclamation is not a new idea and asked what's behind these gates?
The gates to Coseley's Silver Jubilee Park lead to a large triangular green space created in the 1930s.
By 1900 extensive mining had left a legacy of spoil heaps, pit shafts and industrial waste. In 1930 an enlightened Coseley UDC bought the land from the Earl of Dudley to use for recreational purposes. Named to commemorate George V's Silver Jubilee in 1935 it was officially opened by Cllr. Jack A. Grange, Chairman of the Parks & Open Space Committee, on May 28th 1936.
A revamp in 2010 created a 'healthy hub' with outdoor gym, bike & skate ramps, multi-games & play areas, upgraded tennis courts and a hub centre with a community room.
[George V, 'the Sailor King', reigned from May 1910 to January 1936.]