A Nostalgic Tour of Old Tipton
The next meeting of the Society takes place on Thursday 14th March at 7:30 pm in St. Andrew's Church, Bilston Street, Sedgley.
The speaker is Keith Hodgkins, vice chairman of Tipton Civic Society and passionate Black Country heritage campaigner. Keith's archive photographs of Tipton show the town from the 1900s to the 1970s.

Tipton, (recorded in Domesday), became a municipal borough in 1938 surrounded by Wednesbury, West Bromwich, Rowley Regis, Dudley, and Coseley. The longest boundary was with Coseley Urban District binding its history closely with the old Sedgley Manor.

The evening is sure to delight past and present Tiptonians and remind people about the old Black Country boundaries.

As usual visitors are invited to come along. Individual talks cost £1.
2013 Winter Teaser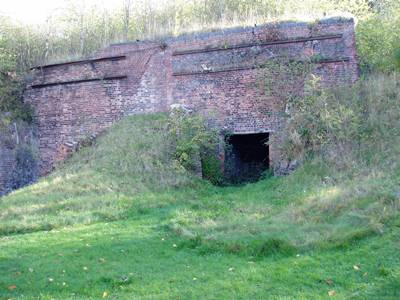 The remains of Sedgley Manor's rich industrial past can still be found as shown in the above photo. We asked where is the site and what happened here?
The photograph shows the lime kilns on the west side of Wren's Nest Hill and originally reached from Highland Road by a much longer Limepit Lane. Two still exist from a bank of at least four. The kilns were charged from the top with alternate layers of coal and limestone. Burning took place over several days at a temperature near 1000°C. The lime (quicklime) was drawn off at the base and transported away to be used extensively as a field fertiliser and in the building trade as a mixer.
The kilns are all that remains from a lime works built in the mid-1800s. They were in use until 1935 although extraction of limestone from the Hill ceased in 1924 necessitating the use of stone from Much Wenlock in the final years of operation.