My Family Tree
The next meeting of the Society takes place on Thursday 9th January 2020 at 7:30 pm in St. Andrew's Church, Bilston Street, Sedgley. Members and visitors are invited to bring along absolutely anything to do with their family history.
Open meetings usually turn up rarely seen items from family collections – memorabilia, photographs, artefacts, and books. The evening is a great chance to display these and chat about them.
Start the New Year by sharing your memories and 'treasures' at this friendly gathering.
As usual visitors are invited to come along – cost £2.
Walk the Walk
If you prefer an urban walk instead of a country stroll try the Dudley Time Trail. Look out for thirty plaques set into pavements in and around the centre of the town. They feature famous figures, events and places including Jumping Joe Darby, the Castle siege and the Church of St. Thomas and St. Luke.
Each plaque is four square feet in area and cast in bronze. Steve Field, the borough artist, designed and masterminded the project. Installation began in 2015 and took several months to complete.
You can pick up a leaflet at libraries and Dudley Archives, or download the route and activity sheet.
On a fine day the walk can be completed in about 2½ hours admiring the views and photographing the plaques. A more leisurely approach can be taken if the Market Place and Coronation Gardens plaques are followed on separate visits.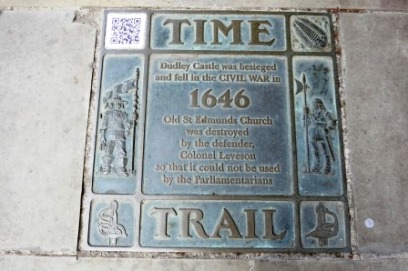 2019 – Autumn Teaser Answer

In Coseley gas cooker production started in the 1890s. This C20th version even had an exclusive foldaway eye level grill.
We asked if you could guess this model's first year of manufacture.
Cannon's A125 gas cooker was on sale for the first time in 1953. The advert was found in the 1954 Christmas issue of Good Housekeeping. In the 1950s Cannon was a leading manufacturer of cookers, gas fires and water heaters. (The firm was established in 1826 and closed in March 1994.)