Our Love Affair with Wheels
The next meeting of the Society takes place on Thursday 10th January 2013 at 7:30 pm in St. Andrew's Church, Bilston Street, Sedgley.
Members and visitors are invited to come along and share their memories about bicycles, motorbikes and cars. Everyone is invited to bring along artefacts, photographs, posters and memorabilia or just tell stories about their love affair with wheels.
Start the New Year by sharing your memories and 'treasures' at this friendly gathering. Take the opportunity to talk about your adventures on two wheels, or owning one of Britain's best loved cars, or wondering about the Wolverhampton/Dudley transport heritage.
As usual visitors are invited to come along – cost £1
[In the 1920s the Black Country was making motor cars by the thousand. Unfortunately by the early 1930s the industry faltered due to an economic depression and management mistakes leaving companies in Birmingham and Coventry in charge. However, the manufacture of bicycles and motorcycles lasted until the 1970s, the former with Wearwell in Wolverhampton, the latter with DMW in Sedgley.]
"Deep and crisp and even"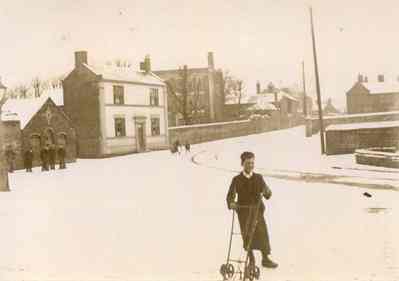 This blanket of snow might have been described with the memorable words from Good King Wenceslas first published in Carols for Christmas-Tide in 1853. The carol, freely adapted from much earlier words and music, caught the imagination of the Victorians and has remained popular ever since.
The photograph of Sedgley Bull Ring probably dates from the 1890s when steam trams travelled from Wolverhampton to Sedgley. Looking northwards the scene was dominated by the house of builder John Hilton. In the background was the imposing, if incorrectly named, Manor House occupied by a business man. The foreground figure looked like the deft touch of an experienced photographer.
This winter have a go at making the most mundane snow scene into something special. Boy with trolley not essential!!