Dudley Castle

The next meeting of the Society takes place on Thursday 12th February 2009 at 7:30 pm in St. Andrew's Church, Bilston Street, Sedgley.

The speaker is Adrian Durkin, Exhibitions Officer at Dudley Museum and Art Gallery, and well known historical re-enactment enthusiast. His illustrated presentation, "Dudley Castle", traces the development of castles and highlights Dudley as a fine example of the changes over the centuries.

This is an excellent evening to brush up on 'mottes', 'baileys', 'treble gateways' and other strange architectural features found in English fortresses.

As usual visitors are invited to come along. Individual talks cost £1.
2009 Winter Teaser Answer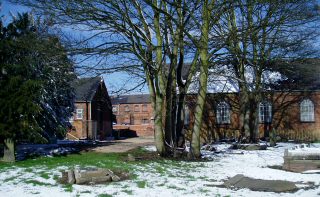 The cluster of buildings once echoed with the sounds of the Victorian age. Can you place the view and identify the original purpose of each one?

On the left-hand side is the vestry at the rear of the mid C19th Primitive Methodist Chapel in Tipton Street, Sedgley. In the centre is a nail warehouse, possibly part of the Victorian 'empire' of Eliza Tinsley, Sedgley's largest nail business. On the right-hand side is the 1880s Sunday School built in line behind the chapel. All of the buildings have new uses. The 2008 picture was taken across the burial ground, unused for over forty years.