2010 Autumn Teaser Answer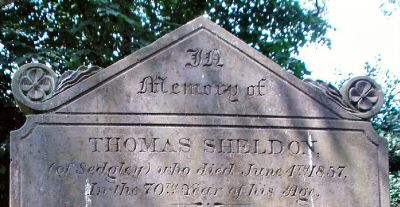 This is the headstone of a craftsman overtaken by mass production. We asked where was he buried and why does he deserve more credit?
The grave of Thomas Sheldon lies on the north side of Sedgley's All Saints Church. In the 1830s he was the licensee of the old Seven Stars, but his 'fame' rests on his apprenticeship to blacksmith Daniel Fellows. About 1800 Fellows claimed the invention of the steel pen nib and Thomas handcrafted these making him the 'first' steel pen nib maker.
Shropshire based David Sheldon replied with details of his 4x great grandfather's investment in the pub located in Gospel End Street, opposite the Police Station. Thomas died there on June 4th 1857, aged 70. The inn was closed c.1970, converted to a private house and demolished c.1995.