The Tangled Web We Weave
The Society's new season of talks begins on Thursday 13th September at 7:30 pm in St. Andrew's Church, Bilston Street, Sedgley.
The speaker is Frank Sharman the webmaster of Wolverhampton History and Heritage Society's extensive website. His talk brings into focus the impact of modern technology on local history studies and how it is coping with the surge of interest in every imaginable facet of days gone by. The illustrations are drawn from the Wolverhampton area including Bilston and Ettingshall. This is Frank's first visit to the Society and his chosen theme promises a fascinating insight into recording and preserving our yesterdays.
As usual visitors are invited to come along - admission £1. Full membership of the Society costs £4 and gives free access to the programme of talks.
Himley Hall Exhibition - Past Times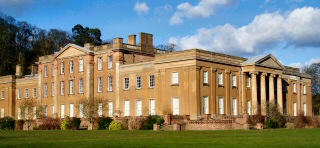 This year the Hall is celebrating four decades in the ownership of Dudley Council. An anniversary exhibition, 'From Country Seat to Royal Retreat', includes a brief history of the property and its owners. Admission is free and it remains open until Sunday 9th September 2007. Tuesday to Sunday - 2pm to 5pm.
This is a rare opportunity to learn about the Hall's colourful past and the changes over the last two centuries of occupation. Fascinating facts abound in this small, but important exhibition – a sale tag of £45,000 to the National Coal Board in 1947, followed by £135,000 to Dudley and Wolverhampton District Councils in 1967 make guessing today's value quite a challenge!
[Himley Hall and Park have been in the sole ownership of Dudley MBC since 1988.]