The oldest engineering works in Sedgley, the Tube Works at Gospel End Street, was established in 1900 by my grandfather, Samuel Brookes, and known as the Excelsior Tube Works. All kinds of tubes and fittings for gas, water and steam were produced. They also supplied many tubes for swimming baths. During the 1920s Samuel Brookes & Sons Limited headed their stationery with the telephone number Sedgley 54.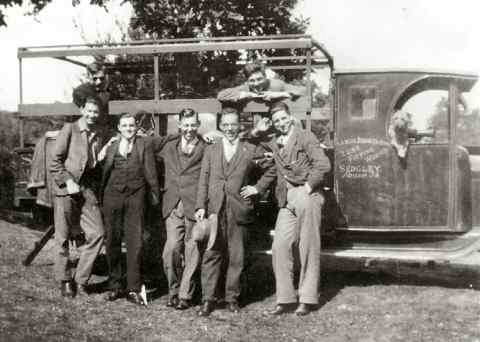 Samuel Brookes & Sons go for a day out in 1929
Left to right - Jack Beddard and Harold Allden in the lorry & in front are Tom Cochrane, Leslie Jennings, Rupert Turner, Harry Flavell and Reg Allden - all members of All Saints Church Young Men's Class in Sedgley. The driver was an unnamed dog!


In the early 1930s the business changed and Brookes Brothers Builders was formed. They built houses in The Broadway, Dudley and locally in Bath Street and Gospel End Road, (where I was born).
During 1935/6 my father built a train track and a fountain in the front garden in Gospel End Road. The whole of the mechanical part of the apparatus was in the cellar of the house and was automatically controlled. Four different jets changed in the fountain together with coloured lighting effects and a train with lighted carriages ran backward and forward. This was quite unique and a remarkable piece of engineering which many people still remember to this day.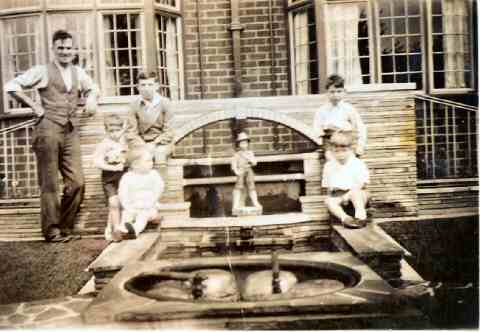 At home in front of the model railway bridge in about 1939
Samuel Brookes Junior with his sons and nephew Howard (standing). Left to right, rear, are Sam and Maurice, in front are Graham and Alan


In the late 1930s the factory workshops were completely destroyed by fire and had to be rebuilt before full production could continue.
In 1945 Samuel Brookes & Co. was formed and they manufactured builders and joiners tools in the name of 'Sedgley Tools' - smoothing planes, spokeshaves, try and mitre squares, bevels, watchmakers hammers and batches of the first secateurs were made. Some of the earliest pneumatics and hydraulics systems were introduced into the design and manufacturing processes. About fifteen girls were employed on the premises, including five from one family. Many of the tools were exported and thousands of these items were made here in Sedgley until the 1970s.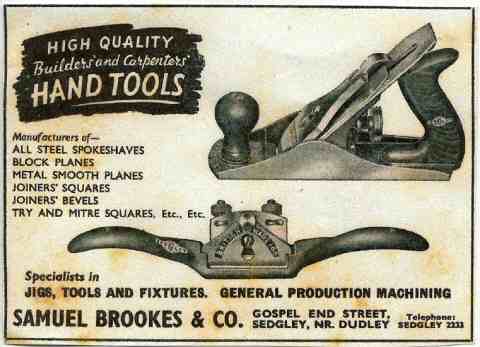 Publicity material from the mid 1950s
The hand tools were proudly marked 'Guaranteed British Made'


During the 1940s and 50s there were three Samuel Brookes - Senior, my grandfather, Junior, my father, and young Sam, my brother. My father had a stroke in 1952 and was unable to work again. It was a time of change - I left school and started in the business.
In the early 1950s manufacture and design continued with jigs and fixtures and the production of machined parts for various trades. A tool-room was set up including lathes, millers, grinders and shapers - some with belt and pulley systems. The manufacture of joiners tools continued.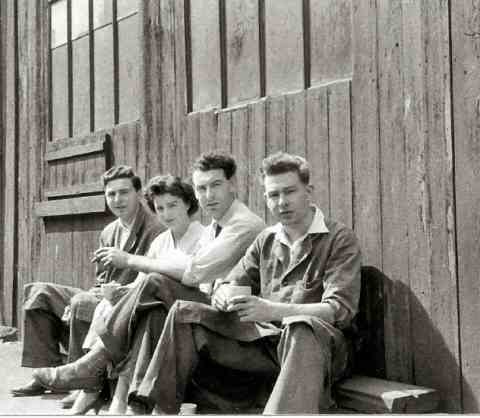 A family tea break in about 1958
Outside the workshop, left to right, are Graham, Janet, Maurice and Alan Brookes


After buying the largest jig-boring machine available in 1955, we began to specialise in jig boring and were able to machine very accurately up to a capacity of two tons. Brookes & Sons [Engineers] Limited was formed in 1960. The workshops were rebuilt and refurbished to continue specialising in jig boring and horizontal boring.
During the next forty years we continued to work for various trades and customers such as Rubery Owen, Rolls Royce, Austin, Rover, Cadbury's and Duracell, but mainly for aero engine and tyre industries. The first CNC machine (computer machining) was introduced in 1980 in order to keep up with technology. Six highly skilled workers were employed - the motto being "If it's dead on, it's near enough"!!
I retired in 1997 and formed a property company, but the engineering company still operates as Brookes Specialist Engineers with design and production facilities, and therefore over 100 years of precision engineering has been achieved in Sedgley.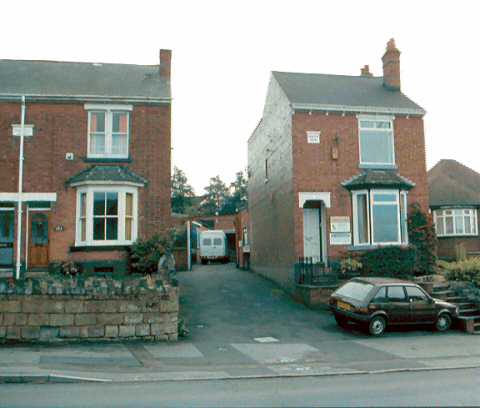 Entrance to factory in October 2000
The Gospel End Street site is easily missed as it nestles behind the houses